There is a little boy I know who just turned 7 and I wanted to make a card for him that he would love! He just saw the new Spiderman movie so I thought I would try a card I had seen on a video from Pinterest (I will put the video on the bottom of this post). I did not have the Stampin Up Spider web Embossing Folder
unfortunately
so that made it more difficult but I made due with the old one I had.
As you can see using the Embossing Folder to create the spider web and covering the raised sections in black ink. The video below gives you a how to on the cutting of the eyes (I am not as accomplished as she is but I think they look ok.)
The SU Embossing Folder has the web centered and makes for a better card but I think I did ok with what I have.
I used Real Red, Pacific Point, Basic Black and White.
To check out the Video Tutorial go to Stamp with Tami ..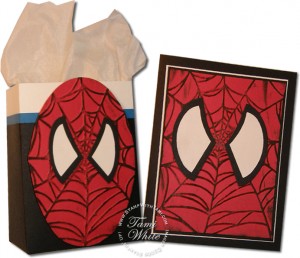 Video Tutorial by Stamp with Tami
Thanks for looking!